We are so excited to welcome you to the Sway Ad Network! The Sway Ad Network is a full-service advertising option for bloggers with 100,000 MPV or higher. Here you'll find a full description of our current ad offerings and a guide on how to get started. We currently offer the following ad types and our contract is non-exclusive with a 50% revenue share.
Ad Offerings
Ad Type
Description
CPM
Fill Rate
Desktop Display
Sizes include 300x250, 728x90, 160x600, 300x600
Medium
High
Native Content
Recommendation
"You may also like..." article recommendation ads that appear at the end
of each post or in your sidebar
Medium
High
Native Brand Content
Ads that are designed to look like a part of your site appearing in the middle
of your front page feed as well as the middle or end of blog posts
High
Low
In-Text links
Text that is hyperlinked to a specific page on another site
Medium
High
Video In-Line
Auto-played and muted video that shows up at the end or in the middle of a post
High
Low
Video Interstitial
Video that appears as users go from page to page within your site
- for example, if clicking through a photo gallery or at the end of a quiz
High
Low
Mobile Display
Sizes include 300x250, 320x100, 320x50
Low
Medium
Mobile Video Interstitial
Video that plays full screen on your mobile device in between page loads
High
Low
To see examples of these ads on an actual page, please view the below images: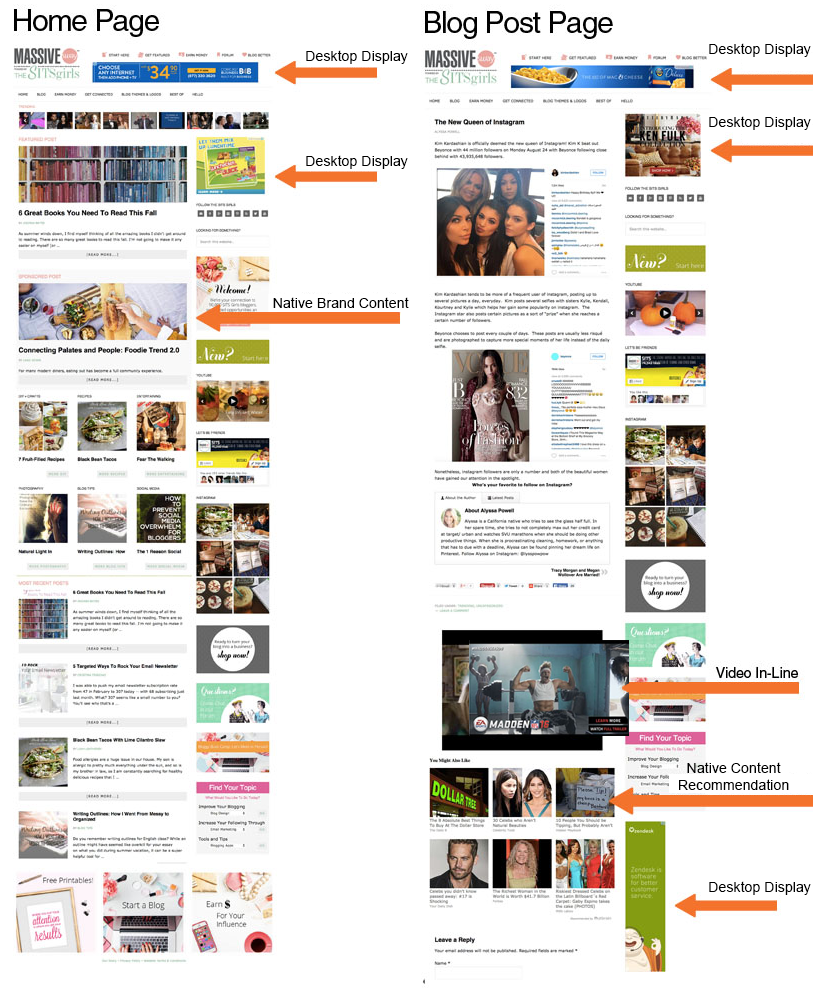 The below image demonstrates how in-text links work.

The below series of images demonstrate how a take-over video interstitial works.


Some Food For Thought
The rule of thumb is no more than five desktop display ads per page. More than that can lead to a decrease in clicks, which will drive down your CPM. The most important aspect of ad revenue generation is actually placement, which is where we will focus our personalized recommendation for you. If your ads are strategically placed in the hot spots of your site, no more than five desktop display ads should be needed to maximize your revenue.
Below is our most popular package for your reference:
Desktop Display (4-5)
Native Content Recommendations
Native Brand Content OR Video-In Line/Video Interstitial
In-Text Links
Mobile Display
Ready to get started?
Great! Follow the below steps to get up and running.
1. Sign up: review our Ad Network agreement by following the relevant link below (password sw2y2ds). Fill out your information and sign the agreement by following the echosign prompts.
2. Select Ad Types: In order to get you the tags you need, we first need you to figure out what ads make the most sense for your site. We will review your choices and make recommendations if we think there are lucrative options that you have not selected, but please let us know what you prefer. It also helps us to understand how aggressive you want to be in terms of your ad revenue. All of our ad options (outlined above) take approximately 2 weeks to implement after an order is placed.
Tell us what ad types you are interested in by filling out this form.
3. Let us do the work!: Once we have an idea of the ad types you are interested in, we'll run a full audit of your site and provide our best suggestions for placement. Tags take approximately 2 weeks from the date your form is received to be generated and installed on your site.
As part of our full service ad network, we will install the tags on your site. In order to make this work, we will need you to provide adsupport@swaygroup.com administrative access to your site. Installation should take no longer than 48 hours and we will never install tags without your awareness. Once all ads are installed, you can remove our administrative access.
Frequently Asked Questions
Below is some really helpful information based on past questions we have received from existing publishers in our network. That said; please don't hesitate to reach out with any additional questions.
Why do you audit my site?
We make money when you make money. To that end, we want to make sure that you are running the right mix of ads, and that they are placed strategically. Our Ad Network team has years of experience and has negotiated very beneficial rates with our industry contacts. Our goal is to maximize your ad income through various options while you focus on creating great content and building your community!
I thought you guys handle installation. Why were you unable to install my ads?
Sometimes our publishers have sites that are a bit, shall we say, messy on the back end. This can cause issues with installation. If this is the case, we will not install your ads but will instead suggest that you get the backend cleaned up a bit first (installing into a messy site can make the site break which we do not want!). If you do not have easy access to a developer for cleanup, we can introduce you to ours. We have negotiated a special rate of $50/hour for our publishers which you can pay to him directly via paypal (Sway Group does not take any profit from this fee – it all goes directly to the developer).
Why did you suggest layout updates to my site?
When performing our audit of your site, we might suggest that a tweak to your layout would be beneficial as it would allow you to run additional, lucrative ads. Again, if this is something you want, but not something you can do on your own, we will connect you with our developer.
How will I be able to track my revenue?
Once your tags have been installed, we will provide you with a login and temporary password to access a dashboard you can use to track your revenue. The dashboard is updated on a 1-2 day delay.
Can I turn off my ads on sponsored posts?
Yes! WordPress allows you to create a "No-Ad" template that you can use when publishing your sponsored posts. You can find the instructions on how to create this template here: https://wordpress.org/support/topic/edit-a-pages-code